The world as my workplace: The story of service engineer Jack Estrabo
Service Engineer Jack Estrabo has been working for Alewijnse for 10 years now. Working in the industry, repairing generators and engines, and pulling cables on ships under construction. He is keen to talk about how he has developed personally during his time with Alewijnse: 'Over the years I have become more and more confident. As you gain more knowledge and experience, so your colleagues trust you more. The people I work with now often ask me how things work.'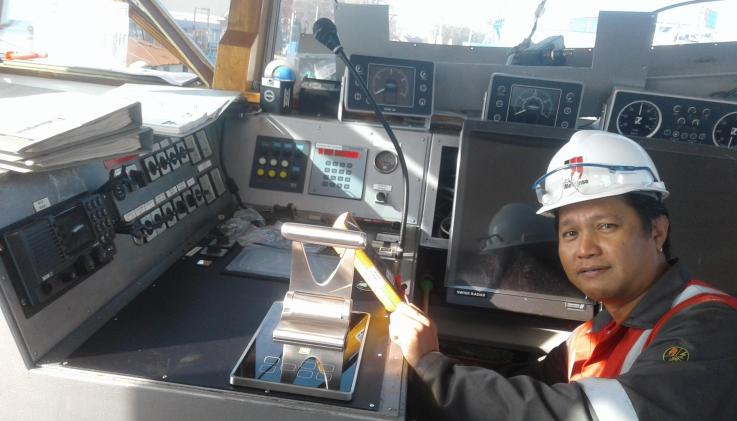 Jack has gained a lot of experience while at Alewijnse and he travels all over the world for his work. We asked him why he still finds his work so exciting after 10 years.
Jack: 'The most important thing for me is the teamwork with great colleagues, and what we do together as a team. I've worked for various companies over the years, but at Alewijnse I really feel at home. That makes me happy and I'm very proud to work here. I also see that customers come to Alewijnse because we deliver quality. Even compared to other companies in this sector, that's something that sets us apart. The importance of delivering quality really appeals to me in my work at Alewijnse.'
It is an enormous kick to finally get a system working again so the ship can sail.
Jack Estrabo, Service Engineer
At Alewijnse, we not only connect people and technology, we also connect colleagues with each other and with their passions. Jack tells us that it wasn't until he came to Alewijnse that he discovered what he really wanted to do. 'Solving technical failures on board vessels, that gives me so much energy. Electrotechnology is complicated and I keep encountering new and different systems. One day I'm repairing a jack-up system on an offshore platform and the next I'm solving a malfunction in a magnetic installation on a crane. Every day is a new challenge. It is an enormous kick to finally get a system working again so the ship can sail. Achieving that makes me very proud.'
As a service engineer in the maritime sector, the world is your workplace. You fly all over the world for repairs and maintenance on board vessels, drilling platforms and tankers. Jack works in Europe a lot, but also in Curacao and in other countries outside Europe. 'It's fun to see other cultures, meet the people and taste local food. Unfortunately, during the corona pandemic, travelling did slow down. Before the pandemic, I was travelling to Lithuania to work on a project, but now I only go to nearby destinations such as Ireland, France and Germany.'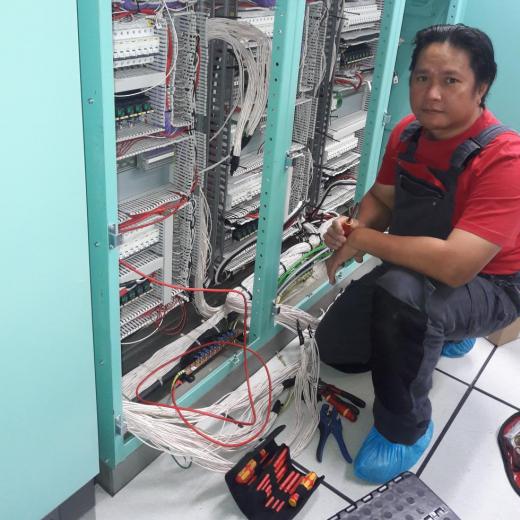 And it's not only the work of a service technician that is international. His colleagues are also from many different countries. 'Being Filipino myself, I feel completely at home in this multicultural environment. I know from experience that it can be very different, but at Alewijnse, it's quite normal to come from another country or culture. It makes me feel like a fish in a big pond.'
The more you know, the more fun it is!
Jack Estrabo, Service Engineer
Jack has extensive knowledge and years of experience in electrical engineering, and now he wants to share this with a younger generation. 'I enjoy teaching new service engineers the profession. It is a varied job in which you can grow rapidly if you are coached well. And you keep on learning as new technical developments keep coming, one after another. The more you know, the more fun it is! My advice to service engineers just staring out is: ask about anything you don't understand. Asking doesn't cost a thing and you will learn a lot by doing it. Just take it easy and think ahead, that's what it all comes down to. And of course, always listen to the senior service engineer,' Jack laughs. 'It's tough work, which is why we look after each other as colleagues. In the end, the most important thing is that you have fun and give it 100%!'
Did Jack's story make you curious and would you like to be part of the Alewijnse team in the near future? Check out our vacancies here or send us an open application.