Alewijnse is your reliable partner in assuming partial or complete responsibility for the integration of engineering across various systems in individual projects.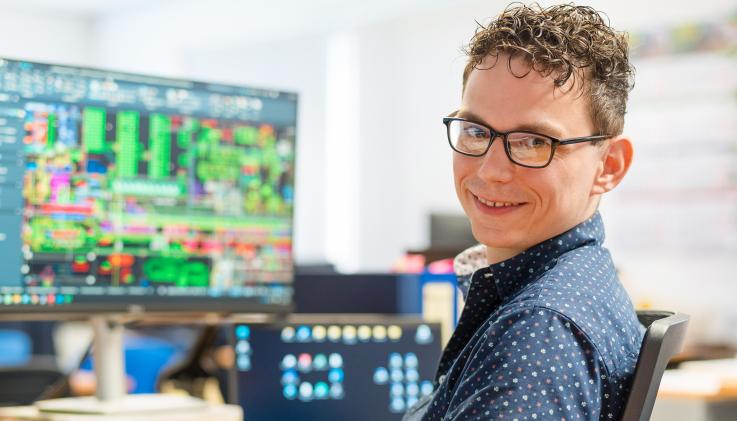 Our strength lies in integrated engineering, where we oversee the entire process as a single entity. This approach is particularly crucial for projects that are becoming increasingly complex over time.
With a rich history of applying integrated engineering to diverse fields such as electrical power generation and distribution, safety, platform design, lighting, automation, audio/video & IT, as well as navigation & communication (navcom), Alewijnse stands at the forefront of innovation.
The Alewijnse approach to integrating the engineering of multiple systems commences with a fundamental design phase, followed by a comprehensive design phase, adhering to the V-model for systems engineering principles.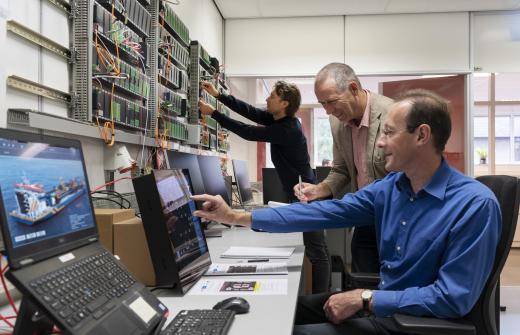 Basic design
During the basic design phase, we translate all technical requirements from the customer's specifications and ensure compliance with relevant regulations. Following an internal review, these documents are submitted for review and approval by both the customer and the classification society.
Our basic design documents include single line diagrams, SARAD (System Architecture Requirements Allocation Document), energy generating system calculations (short circuit calculation, selectivity determination, THD calculation, etc.), material proposals with dimensions, weight, and heat load details, lighting system LUX calculations, automation system IO lists and cable tray and cable penetration designs.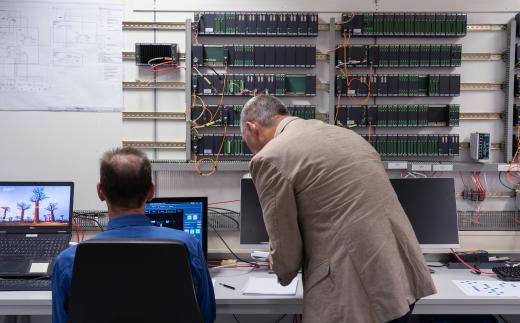 Detailed design
Once the basic design phase is approved, we proceed to the detailed design phase. During this stage, we convert the basic design documents into production documents. This enables us to order materials, manufacture panels, and execute installation work on the project efficiently. We use specialized design software such as Eplan for electrical schematics and panel layout drawings, Autocad for steelwork drawings and equipment location plans, and CMPIC for cable routings and cable management.
EPLAN
In our Eplan design process, we transform functional requirements into cable block diagrams, detailed connection diagrams, and 3D panel construction drawings. Leveraging existing material databases and design macros whenever possible, we create these designs. Additionally, the essential reports and documents required for subsequent stages are generated using the Eplan design tool. These include cable block diagrams, cable connection diagrams, 3D panel construction drawings, panel material lists, and cable lists.
CMPIC
For projects where a comprehensive 3D model is available, we employ the CMPIC design tool for cable routing. Within this tool, we establish connections between all electrical components and the complete cable tray infrastructure. We import the Eplan cable list to determine cable routes and lengths. Throughout this process, we closely monitor the cable tray infrastructure's actual filling status and ensure the optimal cable routing design.
Our proven integrated engineering approach has been successfully applied in a wide range of projects, as demonstrated on our reference page.
Optimising electrical power systems
One of the latest sustainable applications that Alewijnse has developed, is our innovative suite of tools designed for streamlined modeling and simulations, effectively automating the engineering workflow and enhancing the efficiency of electrical power systems. This not only translates to significant savings in terms of time and money but also mitigates potential risks. 
Alewijnse stands out as a pioneer in this achievement, making us one of the select few enterprises capable of delivering such advanced systems to the maritime sector.
In line with this we introduce cutting edge consultancy with sustainable simulation models, focusing on hybrid battery energy solutions, return on investment projections, battery type selections, and insightful event analyses of DP2/DP3 vessels.
Download our latest brochure on automated engineering below
Downloads
.
Alewijnse - automated engineering
(pdf, 3 MB)
Service