Offshore Heavy Lift DP2 jack-up vessel Apollo
DEME's newest and greenest Offshore Heavy Lift DP2 jack-up vessel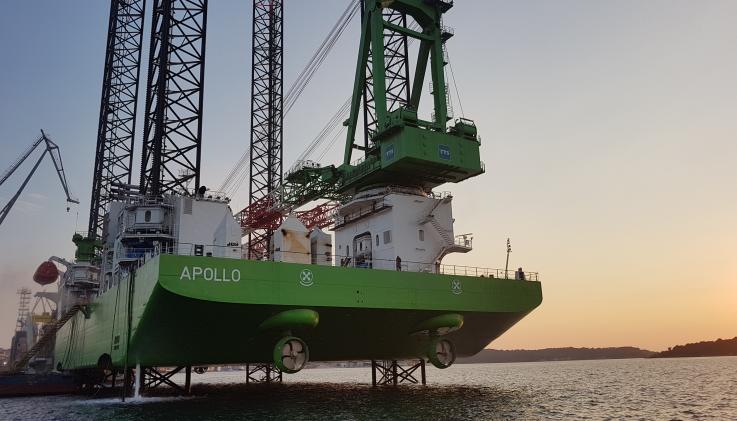 The Apollo project demonstrates the expertise that Alewijnse offers operators in the offshore industry in the design and delivery of all types of electrical installation.
Integration of new helicopter deck on board DEME's latest jack-up vessel Apollo
DEME's newest and greenest Offshore Heavy Lift DP2 jack-up vessel was delivered to GeoSea in August 2018. Alewijnse delivered the electrical system integration and automation works on board of this vessel. Later on in 2019 GeoSea contracted Alewijnse for the electrical installation of a helicopter deck on the Apollo. These works took place in Q1 2019 followed by the completion of a decommissioning contract  by Apollo in the North Sea. 
For the new helicopter deck, Alewijnse delivered and installed upgrades of existing systems plus a helicopter monitoring system. In addition, a dedicated fire-fighting system has been installed, which can be operated from the bridge.
Alewijnse scope
In 2018 Alewijnse designed, engineered and delivered a highly advanced vessel management system. This included an Alewijnse Draught & Loading system (ADLS), a tank sounding system (TSS), a power management system (PMS), various interfaces and a highly efficient riser and cooling water system. The addition of a sophisticated HD video and peripheral matrix switch system allows all connected systems to be easily controlled and monitored via the multifunctional touchscreens and other screens on the bridge.
Apollo
The multi-purpose 87.5-metre Apollo has been designed for wind turbine and foundation installation, decommissioning and heavy-load transportation. She has been built to be one of the most environmentally-friendly vessels of her class but in the world and complies with the ENVIRO certificate, the most stringent class notation for environmental protection, awarded by the American Bureau of Shipping (ABS). Clean power on board is supplied by solar panels and wind turbines, and biodegradable grease and oil are also used, along with heat recovery techniques. Together, these technologies ensure that the vessel operates with the lowest possible fuel consumption while also keeping CO2, and NOx and SOx exhaust to the strictest minimum. A key card system for the accommodation units also helps reduce energy usage.                                                           
A leader in specialist electrical systems for the offshore industry
The Apollo project demonstrates the expertise that Alewijnse offers operators in the offshore industry in the design and delivery of all types of electrical installation. Previously delivered automation systems for DEME include those for the Melina, Uilenspiegel and Lange Wapper. "I feel confident with this latest challenge, which extends the history of fruitful cooperation between Alewijnse and DEME, that it will result in the deployment of technically advanced solutions which contribute to the vessel's strategic competitive advantage," said Alewijnse product manager Johan van Rikxoort.
Working together for a sustainable future
DEME is a world leader in the fields of dredging, marine engineering and environmental remediation. It promotes its vision of a sustainable future by offering solutions to global challenges such as the rise in sea level, climate change and the transition towards renewable energy.
All-round electrical system integrator Alewijnse is a leader in maritime electrical system integration with decades of experience in the offshore and dredging industries. It maintains on-site facilities at shipyards in the Netherlands and around the world. Alewijnse makes its own contribution to a sustainable future by designing innovative electrical solutions that support emerging technologies such as fuel cells, hybrid and LNG propulsion, and maritime energy management.
Vessel Management System
Draught and Loading System (ADLS)
Power Management System (PMS)
Tank Sounding System (TSS)
Seawater cooling system (SW)
Freshwater system (FW)
Fuel transfer (FT)
Bilge/Ballast/Fire system
Logging
Benefits
Custom build
Modular based design
Ergonomic HMI graphics
User configurable scalings
Variable Interfaces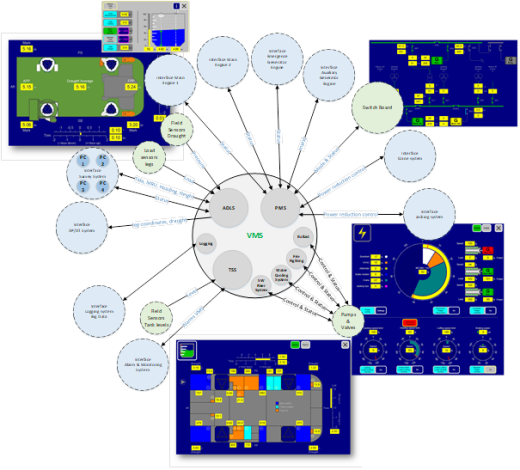 Service