Support Vessel Zr. Ms. Pelikaan
Mid-life electrical refit for naval support vessel Zr. Ms. Pelikaan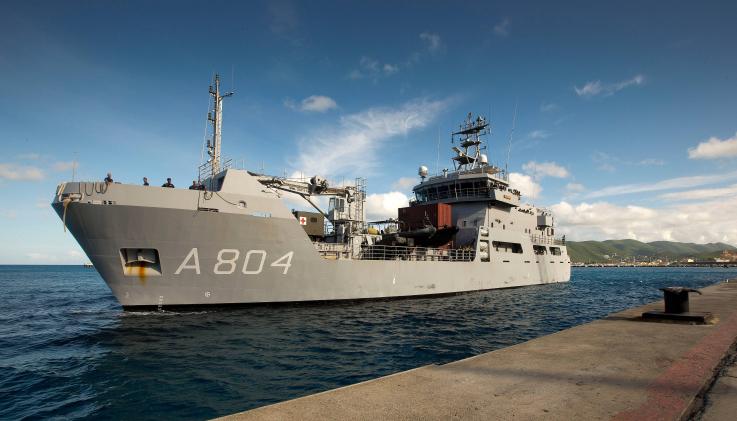 "When we were looking for someone to conduct the electrical scope of work on this project Alewijnse was the natural choice. "
Alewijnse Marine undertook the electrical fit-out scope of the mid-life refit project to the Royal Netherlands Navy's Support Vessel Mr.Zs. Pelikaan. Alewijnse was awarded the contract by Damen Shipyards Den Helder in August 2019 and commenced work in January 2020. The work was carried out in Den Helder and at Damen Shiprepair Harlingen.
Zr.Ms. Pelikaan operates exclusively in the Caribbean region where she provides support to maritime security operations and, in times of disaster, humanitarian relief. Alewijnse's scope of work during the refit project was the electrical work, covering engineering, supply and installation of equipment, project coordination and commissioning of all on board electrical systems. This includes amongst others:
Installation of brand new telephones;
Radar;
CCTV;
Alarm and monitoring systems (AMS)
Alewijnse has a keen focus on innovation and was therefore able to provide the vessel with future-ready solutions.
Naval & Governmental
In addition to the high quality of the equipment, Alewijnse was perfectly capable to carry out this project. Having undertaken the original electrical installation when the vessel was built at Damen Shipyards Galati in Romania in 2005. Besides this, we have successfully undertaken numerous similar contracts for Damen on defence & security-related vessels over the years. Alewijnse's wealth of experience with naval vessels plays an important role in helping to complete the project on time, enabling the vessel to be back in the Caribbean in time for the Hurricane season.
The project has faced additional challenges as a result of the coronavirus crisis. Alewijnse's contract manager Perry Eikelenboom explains: "The safety of our personnel and of all those working on location is our top priority during this project. Maintaining safe distances while working and minimising the number of people on location at any one time place pressure on the schedule, but are essential. Thankfully, we enjoy a close cooperation with the yard and, working together and following their robust safety measures, we manage to be both efficient and safe."
Picture: Ministry of Defence
Logo
When we were looking for someone to conduct the electrical scope of work on this project Alewijnse was the natural choice. The company has extensive experience with Zr.Ms. Pelikaan in particular and with naval vessels in general. This experience can be clearly seen in the high efficiency of their performance on this project. The co-operation is very good and the teamwork enables us to keep things on track whilst observing the important safety measures we currently have in place.
Jan-Dirk Boomsma, Project Manager @Damen Shipyards Den Helder
Service