In order to expand our team, we are looking for a Service Engineer. Are you a responsible and independent hard worker? Then please read on.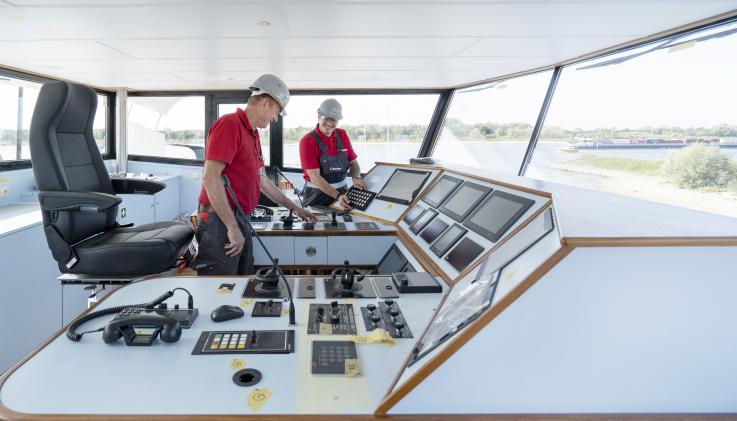 Vocational Education
32-40 hours
the Netherlands - Zuid-Holland
Professional
Service and Commissioning
What will you do as a Service Engineer?
As a Service Engineer you will be part of a small team of specialists who ensure a satisfied customer in the after sales phase. In addition to after-sales care for the delivered new construction projects, independent projects and service jobs are also carried out on the existing fleet, the so-called Refits.

A glimpse of your tasks:
You are responsible for independently carrying out service, maintenance and commissioning work on a range of electric installations on board;
You actively think along with us in the event of problems or deviations arising during the projects;
You mainly work on board of dredging and offshore vessels that can be anywhere in the world;
You also work with 'remote access' in order to be able to provide service via satellite connection from the Netherlands;
You make summaries and reports regarding the various projects.
Who are you?
You've completed an MBO level 4 or HBO education in electrical engineering or equal certification;
You possibly have some relevant work experience in the marine / offshore sector;
Your communication skills in the English language are good;
You have a passion and ambition for the profession and want to innovate and develop yourself;
You are possessing good analytical skills and work accurate;
You are a team player, reliable, involved, open and your aim is to build a sustainable relation.
Where will you be working?
Alewijnse is an innovative and passionate company. We aim to get a little better every day. With over 130 years of experience, we have a wealth of knowledge in our midst. We are committed to continuously providing the best solutions for our company, our colleagues and our customers. That makes us a strong technological partner for customers and a committed employer for you.

This role is located worldwide, you will often work in the ARA (Amsterdam / Rotterdam / Antwerp) area and you will visit our customers on request. You will also work in Nijmegen from time to time.

As Service Engineer Automation you will be dealing with, e.g., the following market segments:
Yachts;
Dredging & Offshore;
Naval & Governmental.
Would you like to know more about working at Alewijnse? Read the stories of your future colleagues here.
What to expect from us?
Due to the growth of our organisation, there are both horizontal and vertical career opportunities within Alewijnse. We encourage colleagues to continue to develop, so we can grow together. We do this in an inspiring, dynamic and pleasant environment with many impressive projects. Collaboration and respect for each other's input are crucial at Alewijnse. You are given all the space you need for your input, so that you can contribute to the best team performance.

We believe that a good balance between working and relaxing, for example, is very important. That is why you get 25 days of personal leave, in case of full-time employment. These are supplemented with no less than 13 ADV days. In addition, we have a lively staff association that regularly organises activities.
Would you like to come on board with us? Send us your resume and a short motivation via the application form and who knows, we might meet soon!