In relation to the increasing demand for Low Emission solutions, we are looking for a Solution Manager Hybrid. As a partner in systems integration, Alewijnse is involved in the building of a ship at an early stage. We advise on conceptual design and the application of new hybrid techniques and high end systems. Are you the Solution Manager Hybrid we are looking for? Then please read on!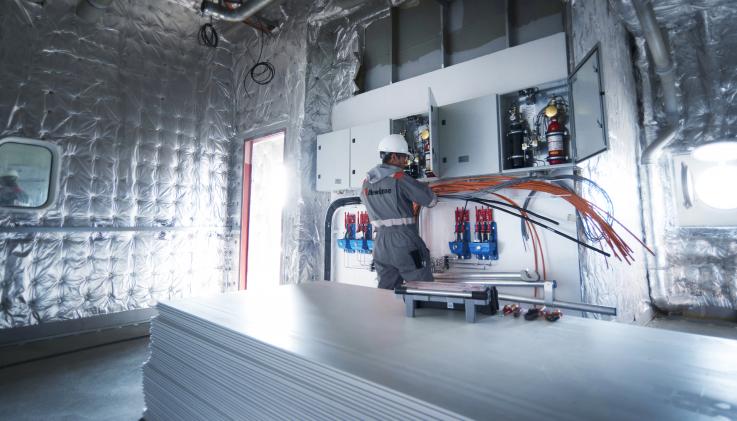 Bachelor
40 hours
the Netherlands - Gelderland
Professional
Engineering, Cost Engineering and Process planning
What will you do as a Solutions Manager Hybrid?
You translate the customers' wishes to a conceptual design. These designs include several building blocks. Alewijnse has developed a comprehensive variety of conceptual building blocks that are matched up at the design stage to create logical and effective Hybrid Power systems.

A glimpse of your tasks:
Determining the technical Roadmap for Alewijnse related to Hybrid Solutions;
Focus on innovation and progress, and you actively come up with new solutions (towards customers);
An active contribution to the development and sharing of technical knowledge of the organisation;
Giving advice on technical solutions and feasibility in tender processes based on your technical expertise;
Making business cases to support the plans;
Contribute to the standardisation of processes within your team and in mutual consultation within other teams;
Translate the customers' wishes into a conceptual design in the tender phase;
During the project you remain involved as a technical trouble shooter in the challenges that arise in this phase.
Who are you?
We are looking for a Solution Manager who will develop a technical roadmap for Alewijnse. You are a technical architect and work closely with our customers and system engineers. You have an entrepreneurial view, commercial attitude and technical knowledge of Hybrid Power systems in the maritime industry.

In addition:
You have a completed higher professional or academic education in a relevant (electro) technical program;
You have experience in the engineering of (complex) Electrical power Solutions, e.g. battery systems, electrical distribution, electrical machines, PMS, power quality and power plant analyses;
You have experience in working within a project / matrix organisation;
You are able to focus on the commercial results and the technical roadmap;
You quickly understand complex situations;
You have strong communication skills in Dutch and English;
You are customer and service oriented, and you think in solutions;
You are a team player and you can translate your vision on a broad level;
You know how to motivate your team and convey the passion for your profession.
Where will you be working?
Alewijnse is an innovative and passionate company. We aim to get a little better every day. With over 130 years of experience, we have a wealth of knowledge in our midst. We are committed to continuously providing the best solutions for our company, our colleagues and our customers. That makes us a strong technological partner for customers and a committed employer for you.

As a Solutions Manager Hybrid you will be dealing with, e.g., the following market segments:
Luxury yachts, worldwide new builds and refits
Dredging, Offshore & Transport
Naval & Governmental
Would you like to know more about working at Alewijnse? Read the stories of your future colleagues here.
What to expect from us?
Due to the growth of our organisation, there are both horizontal and vertical career opportunities within Alewijnse. We encourage colleagues to continue to develop, so we can grow together. We do this in an inspiring, dynamic and pleasant environment with many impressive projects. Collaboration and respect for each other's input are crucial at Alewijnse. You are given all the space you need for your input, so that you can contribute to the best team performance.

We believe that a good balance between working and relaxing, for example, is very important. That is why you get 31 days of personal leave, in case of full-time employment.
Would you like to come on board with us? Send us your resume and a short motivation via the application form and who knows, we might meet soon!