As a Project Manager, you effectively and efficiently manage complex, technical projects with a value of up to approximately €10M. You are responsible for defining project requirements, managing the project team and delivering the project on time and within budget, while keeping all stakeholders in mind.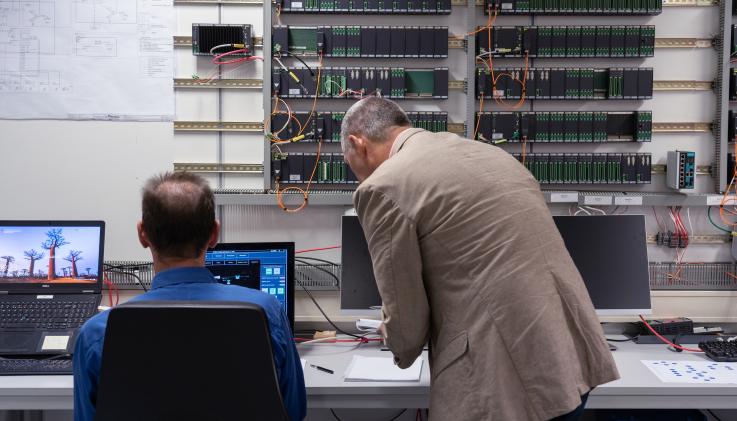 Bachelor
40 hours
the Netherlands - Zuid-Holland
Professional
Project Management
What will you do as Project Manager?
You ensure that projects are delivered on time, within scope and budget, but above all in a safe way. You manage relationships with customers, suppliers and all other internal and external stakeholders. You are responsible for defining the project scope and objectives and involve all relevant stakeholders to ensure technical feasibility.

A glimpse of your tasks:
You define resource needs and negotiate with the various resource managers on the availability and allocation of resources;
You create a detailed project schedule to monitor and track progress and provide reliable forecasts;
You manage the changes in the project scope, project schedule and project costs using appropriate verification techniques;
You create and maintain appropriate project documentation;
You meet with customers to discuss and resolve discrepancies between written specifications and expectations;
You delegate project tasks based on individual employee strengths, skills and experience levels;
You are responsible for meeting budget targets and adjusting project limitations based on financial analysis;
You contribute to the continuous improvement process of Alewijnse.
Who are you?
You are a team player, reliable, involved, open and always focused on building lasting relationships. You encourage cooperation, have a 'glass is half full' mentality and are creative. You derive energy from motivating and coaching colleagues and you are able to work under pressure. You have a businesslike, practical, decisive and result-oriented attitude.

In addition:
You have at least a BSc technical degree and 7 years experience as project leader / project manager of complex shipbuilding related technical projects;
You have experience with IPMA or PMI project management methodology on level C/D;
You speak fluent English;
You are willing and able to travel and work abroad for longer periods of time.
Do you have more than 10 years of experience as a project manager? Check out our Senior Project Manager vacancy here.
Where will you be working?
Alewijnse is an innovative and passionate company. We aim to get a little better every day. With over 130 years of experience, we have a wealth of knowledge in our midst. We are committed to continuously providing the best solutions for our company, our colleagues and our customers. That makes us a strong technological partner for customers and a committed employer for you.

As a Project Manager you will be dealing with, e.g., the following market segments:
Luxury yachts, worldwide new builds and refits
Dredging, Offshore & Transport
Naval & Governmental
Industry
Would you like to know more about working at Alewijnse? Read the stories of your future colleagues here.
What to expect from us?
Due to the growth of our organization, there are both horizontal and vertical career opportunities within Alewijnse. We encourage colleagues to continue to develop, so we can grow together. We do this in an inspiring, dynamic and pleasant environment with many impressive projects. Collaboration and respect for each other's input are crucial at Alewijnse. You are given all the space you need for your input, so that you can contribute to the best team performance.
Would you like to come on board with us? Send us your resume and a short motivation via the application form and who knows, we might meet soon!