In order to expand our HR department, we are currently looking for an decisive and convincing HR Business Partner who feels at home in a customer-oriented, technical organisation. Would you like to fulfil this key role in an inspiring and energetic organisation like Alewijnse? Then please read on.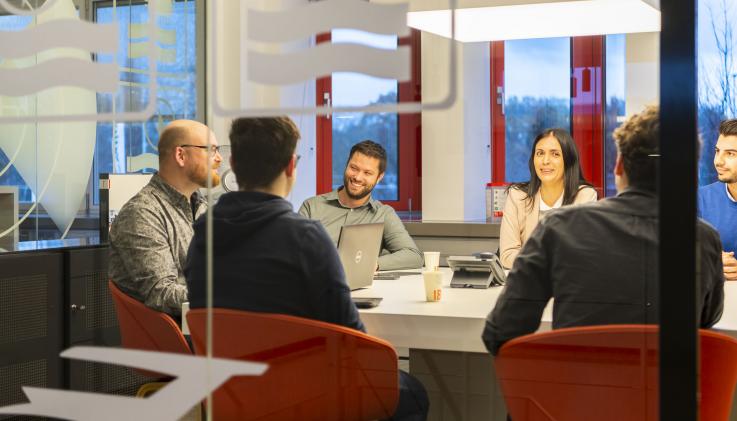 Bachelor
32-40 hours
the Netherlands - Gelderland
Professional
IT, Finance, QESH, HRM and Support
What will you do as a HR Business Partner?
Coaching and advising managers in their approach to conversations, management, motivation and development of their employees. Together with the managers, you ensure an optimal mix of qualities in their teams;
Supervising organisational changes, whereby you ensure attention for both people and organisation;
Actively communicating, propagating and monitoring the human vision. In addition, you provide input for the new HR policy to be formed;
Initiating, leading and participating in projects to simplify and modernise the HR policy and to focus on the employee;
Supporting the management with recruitment and selection.
Who are you?
We believe that our employees make the difference. Therefore, as an employer, we want to create an environment where everyone enjoys working, where there is room to learn and develop, and where we achieve great results together. As an HR Business Partner, you know exactly what is needed to achieve this. You will be well equipped to advise our managers and help them to develop their team and themselves to get the best out of themselves.

In addition:
You are enthusiastic, creative and decisive;
You take initiatives yourself, create acceptance and know how to inspire others;
You can work with people at all levels of the organisation;
You have a good understanding of the Dutch and English languages, both verbally and in writing;
You have excellent communication skills;
You have an optimistic attitude and you are goal-oriented, driven and can switch quickly;
You have an HBO education, preferably an education and experience in the field of HRM.
Where will you be working?
Alewijnse is an innovative and passionate company. We aim to get a little better every day. With over 130 years of experience, we have a wealth of knowledge in our midst. We are committed to continuously providing the best solutions for our company, our colleagues and our customers. That makes us a strong technological partner for customers and a committed employer for you.

As an HR Business Partner, you will be part of a team of two other HR Business Partners, HR Officers, an Employer Branding Specialist and a Manager HR. You work together as a team to facilitate the organisation and its employees to work together with great pleasure every day. You do this from our head office in Nijmegen, but you will regularly travel to our offices in Krimpen and Drachten. You are part of an international team with, besides colleagues in the Netherlands, also colleagues in Romania and Vietnam. Your colleagues are managers and employees who can rely on your expertise in HR topics such as leadership, organisational change and talent management.

Would you like to know more about working at Alewijnse? Read the stories of your future colleagues here.
What to expect from us?
Due to the growth of our organization, there are both horizontal and vertical career opportunities within Alewijnse. We encourage colleagues to continue to develop, so we can grow together. We do this in an inspiring, dynamic and pleasant environment with many impressive projects. Collaboration and respect for each other's input are crucial at Alewijnse. You are given all the space you need for your input, so that you can contribute to the best team performance.
 
We believe that a good balance between working and relaxing, for example, is very important. That is why you get 31 days of personal leave, in case of full-time employment. In addition, we have a lively staff association that regularly organizes activities.
Would you like to come on board with us? Send us your resume and a short motivation via the application form and who knows, we might meet soon!