Hardware Engineer Power & Distribution
As a Hardware Engineer Power & Distribution you are fully responsible for the complete electrical design of the energy generation, storage and distribution system within the allocated project based on customer specifications, class requirements and the Alewijnse way of working in the market segments.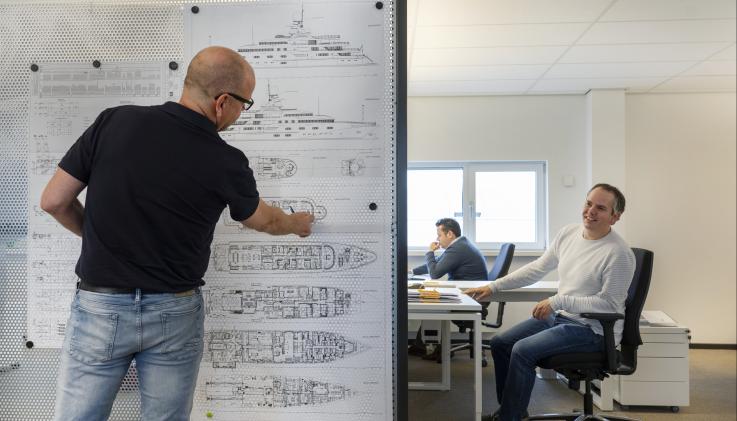 Vocational Education
40 hours
the Netherlands - Gelderland
Professional
Engineering, Cost Engineering and Process planning
What will you do as a Hardware Engineer?
You will realize the work according to customer requirements, class requirements and the Alewijnse way of working. This includes delivery of the engineering within budget and according to project planning and quality demands. Deviations from the scope of supply will be signalled by you.

A glimpse of your tasks:
Setup a System Architecture and describe the solution, based on system requirements from our customer.
Perform load balance analysis, perform total harmonic distortion analysis, perform short-circuit calculations and define the selectivity diagram, perform static and dynamic voltage drop analysis, perform arc flash and thermal stability calculation.
Identify and collect sensors and I/O to be connected to the ships alarm system.
Coordinate/produce the E-plan cable block diagrams and wiring diagrams for the power and distribution systems based on basic document as mentioned above.
Determine the materials to be used and write procurement specifications for large/complex equipment and/or panels.
Setup production documentation package for panel production.
Setup test procedures and take the lead in factory acceptance tests.
Implement the as-built data and deliver the as-built package.
Supporting Sales activities in defining the technical solution and estimation of engineering hours.
Who are you?
You've completed an MBO level 4 or HBO education in electrical engineering or equal certification, potentially complimented with additional relevant courses.
Your communication skills in the English language are good.
You have a passion and ambition for the profession and want to innovate and develop yourself.
You are possessing good analytical skills and work accurate.
You have basic knowledge of Word, Excel and optional SKM Power Tools.
You are a teamplayer, reliable, involved, open and your aim is to build a sustainable relation
Where will you be working?
Alewijnse is an innovative and passionate company. We aim to get a little better every day. With over 130 years of experience, we have a wealth of knowledge in our midst. We are committed to continuously providing the best solutions for our company, our colleagues and our customers. That makes us a strong technological partner for customers and a committed employer for you.
What to expect from us?
Due to the growth of our organization, there are both horizontal and vertical career opportunities within Alewijnse. We encourage colleagues to continue to develop, so we can grow together. We do this in an inspiring, dynamic and pleasant environment with many impressive projects. Collaboration and respect for each other's input are crucial at Alewijnse. You are given all the space you need for your input, so that you can contribute to the best team performance.

We believe that a good balance between working and relaxing, for example, is very important. That is why you get 25 days of personal leave, in case of full-time employment. These are supplemented with no less than 13 ADV days. In addition, we have a lively staff association that regularly organizes activities.
Would you like to come on board with us? Send us your resume and a short motivation via the application form and who knows, we might meet soon!