Are you experienced in designing Navigation and Communication systems for ships? Do you want to integrate these systems with other shipping systems in the bridge and are you looking for a new adventure? Then read on and come aboard!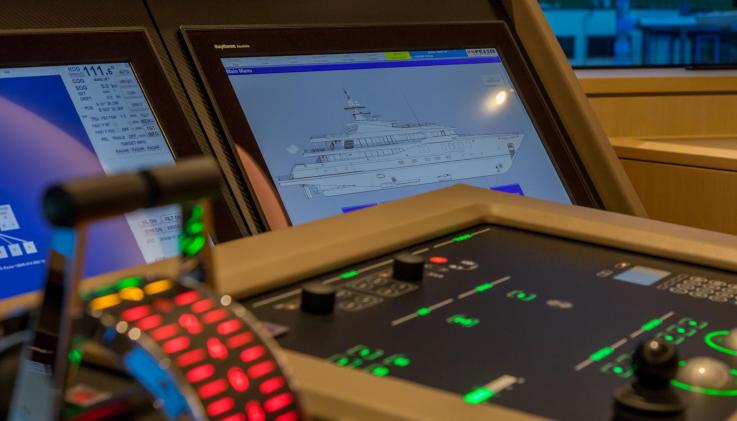 Bachelor
36-40 hours
the Netherlands - Gelderland
Professional
Engineering, Cost Engineering and Process planning
What will you do as an engineer?
You will design NavCom systems and bridge panels. You will also deal with the integration of these and the other shipping systems in the bridge.

A glimpse of your tasks:
You coordinate the functionality of the systems with the customer and suppliers and incorporate them into the electrical drawing package;
You will assist on-site commissioners on NavCom systems and the bridge;
You will be in close contact with the project team, customers, suppliers and classification societies to make the project a success;
You work within budget and in accordance with the project schedule.
Who are you?
You are a true organiser. You have substantive knowledge of navigation and communication systems and bridge integrations in the maritime sector. You are prepared to support on-site commissioning with some regularity.

In addition:
You have completed an HBO or MBO4 course in electrical engineering;
You have several years of working experience as a hardware engineer.
Where will you be working?
Mainly at our office in Nijmegen. We work hybrid, so a day at home or at one of our other locations is also possible. Furthermore, you will regularly travel to a project location for site meetings.

Alewijnse is an all-round systems integrator with a wide range of solutions for both maritime and industrial customers. We are proud to work on the most impressive projects every day, together with major yacht and shipbuilders in the Netherlands, among others. Internationally, our passionate colleagues work together as a team and strive to become a little better every day. That makes us unique in the market and a challenging employer for you.

Would you like to know more about working at Alewijnse? Read the stories of your future colleagues here.

What to expect from us?
We encourage all colleagues to keep developing, both personally and professionally, so we can grow together. An inspiring, dynamic working environment and the many impressive projects contribute to this, as does room for your own input. Depending on your knowledge and experience, we offer a salary between €3,300 and €4,500. Furthermore, there is a good pension scheme with PMT. As for other employment conditions, we fall under the Collective Labour Agreement for the Metal and Technology Sector.

To excel, you also need relaxation. That is why you get 25 days off, supplemented by no fewer than 13 ADV days. We also have a lively staff association which organises regular activities.
Are you ready to come aboard? Then send us your CV and a short motivation via the application form and who knows, we might meet soon!